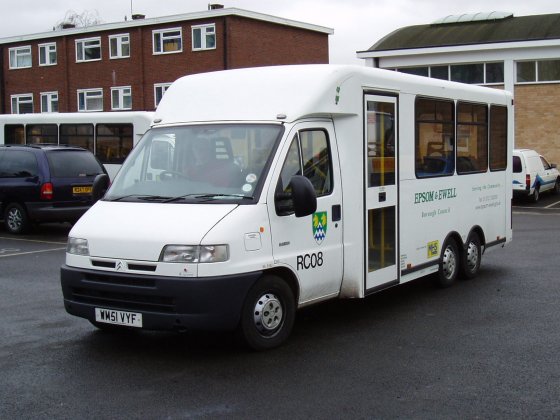 Transport from Home is a membership transport service that runs across the borough for residents of Epsom and Ewell. Transport from Home is for people who find accessing or using public transport challenging. This service may be suitable for people who need door to door transport and who may be disabled. The vehicles are wheelchair accessible and fully equipped to provide a safe and flexible transport service. The service operates Monday to Friday between 9am and 4.15pm. Fares are paid to the driver upon boarding the bus. The service will pick you up from home to take you to your destination. You can ring the contact centre between 9am and 5pm, Monday to Friday to make your travel booking. For next day travel your booking must be made by 2pm the day before. Bookings can be made three weeks in advance of the date of your journey with the exception of excursions. You can book one off journeys or enjoy regular repeat bookings, (e.g. shopping on a set day at a set time each week), this means you only need to make your booking with the contact centre once. If you require a carer to travel with you, let us know in advance, as your carer may travel free of charge. Free carer travel is available for most journey types except on excursions.
Fare types
The service offers the following fare types:
Day centre
Travel from home to the Longmead Centre, Sefton Road, Epsom, KT19 9HG.  
Pick up from home is between 9am and 10am returning from 3pm.
Dial a bus
Travel from home to the clock tower in Epsom town centre (Tuesday, Thursday, and Friday ) or Sainsbury's Kiln Lane (Monday and Wednesday) for shopping.
Buses are scheduled pick up from home from 10am and to arrive at the clock tower in Epsom at 11.15am returning at 1pm and at Sainsbury's arrival time is at 11am returning at 12.30pm.
Dial a ride
You choose where you want to go within the borough and when you want to be picked up within the times the service operates. This service can be used for medical and other appointments or to visit friends. 
Borough boundaries 
Travel from home to nursing homes and clinics that are near to or on the the borough boundaries.
Out of borough
The service also travels to the following out of borough destinations:  
Ashtead hospital
Leatherhead hospital
Royal Marsden (Sutton)
St Anthony's hospital
St Helier hospital
Sutton eye hospital
Excursions
We offer excursions out to garden centres, pub lunches and cream teas in the local area. The excursions are available to all Transport from Home members and trips are booked and paid for in advance by card payment through the contact centre. Please note that it is not possible to refund excursion tickets.
You can see our April 2018 excursions here: April 2018 excursion poster
Membership
To join please complete the attached form, the annual membership payment is paid by direct debit. When you join the scheme you will receive a welcome letter that contains details of how to book your journeys, your membership card and details of any upcoming excursions.
To speak to someone about the service please contact us on 01372 732 000 or email on contactus@epsom-ewell.gov.uk .
Back to Community and Wellbeing Services