Councillor Peter O'Donovan
Mayor 2021/2022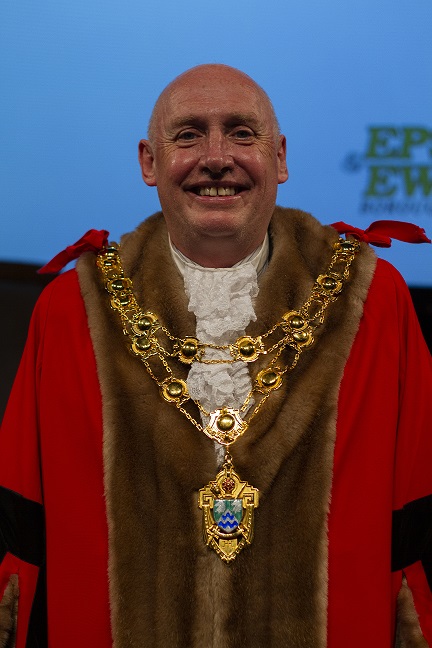 Peter was first elected as a Borough Councillor in 2015 in Ewell Court Ward. He has served on various committees most notably on Planning since 2015 and spent a year as Chair of the Environment Committee.
His parents came over from Ireland in 1954 and he was born in Putney in 1961 before moving to Streatham, where he met his wife Sarah in 2001, onto Carshalton for a couple of years and finally West Ewell in 2007.
Peter has two children Aoife (14) and Eoin (12) and they attend St Andrews Catholic School in Leatherhead.
He is a keen sportsman although his team Fulham, where he is a season ticket holder with Eoin, has not had such a good year. He helped run Eoin's football team at AFC Ewell for a few years and also sat on appeal panels for local schools. He still enjoys musical theatre and has been treading the boards since 1980 and been lucky to perform at the Wimbledon Theatre, Fairfield Halls and our own Epsom Playhouse amongst other local theatres. It was whilst playing Alfred P Doolittle in My Fair Lady at the Secombe Centre that he met Sarah who had come along with a mutual friend before getting married in 2003.
Peter has worked in finance since leaving school (The London Oratory) in 1979 when he joined Lloyds Bank and was Manager at Hampton Hill branch before leaving in 1997. Since then his work has continued with finance including comparison website MoneyExtra, UKAR – managing the assets for the old Bradford and Bingley and Northern Rock and as a mortgage advisor. He is currently self-employed as an Equity Release Specialist with The Mortgage Advice Bureau.
Peter will be using the opportunity to raise funds and recognition for three organisations that mean a great deal to him. These are…
Epsom RDA
A local organisation providing disabled people with the opportunity to improve their health and wellbeing through horse riding
Look Good Feel Better
A national charity who help boost the physical and emotional wellbeing of people living with cancer.
My Time for Young Carers
A charity providing fun activities for young carers aged between 7 and 15 who live in and around Epsom and Ewell, and Mole Valley
Telephone: 01372 732100