How to deal with waste if you are self-isolating
Latest government advice here.
Weekly mixed recycling bin
Leave your bins in a clearly visible place at the edge of your property from 6.30am on collection day. We work as normal on bank holiday Mondays and Good Friday. What if a collection is missed?
Your green recycling bin is ONLY for:

Paper - any colour, printed or plain, including envelopes (even with windows)
Cardboard - any type, like boxes or packaging. NO GREASY PIZZA OR FOOD BOXES. NO COFFEE CUPS
Cans and tins - both steel and aluminium, including aerosols (fully expended please). We take bottle/jar lids too
Plastic bottles (lids on), pots, tubs and trays - NO BAGS OR SACKS, NO OTHER PLASTICS

NO GLASS, NO FOOD, NO TEXTILES, NO FOIL, NO CARTONS (see below for information on carton recycling).
Put recycling in your bin loose, not bagged. It's easier and cheaper to sort them out afterwards, and recycling companies know that bags can often hide non-recyclables, so may reject loads with plastic bags in. Why is it OK to put plastic bags in food waste but not in the green recycling bin?
If you have too much recycling for your bin you can leave it next to your bin in a labelled, clear bag and we will take it, like this: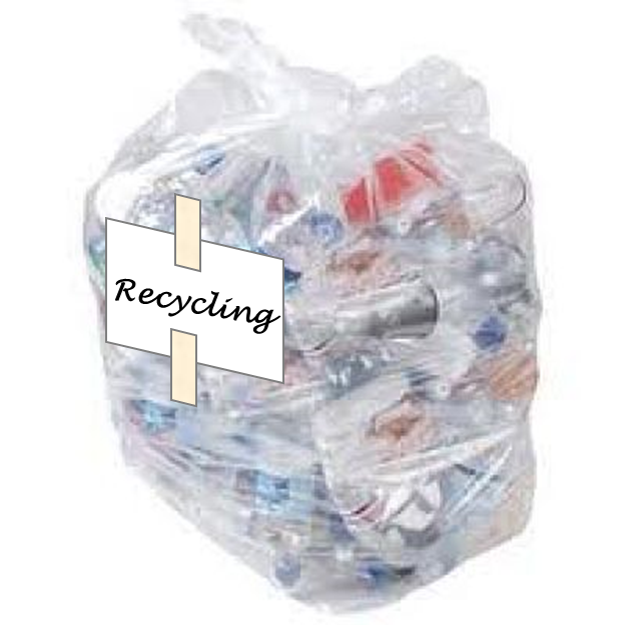 Large pieces of cardboard, such as packaging from a new TV, can be left next to your bin and we will take it.
Why can't cartons be recycled now?
We regret that the processors who deal with our mixed recycling have told us that it is no longer practical or economically viable for them to separate cartons as a material stream from our kerbside collections. What can I do if the Council can't recycle it?
What's happening at the tip?
Surrey County Council has announced that its Community Recycling Centre (the tip) at Blenheim Road has re-opened but will ONLY accept garden waste and bagged refuse until further notice.
The site will be open 9am - 6pm seven days a week until further notice. Social distancing will be in place within the site. Traffic management measures will be in place in the approach roads (as normal, approach via Felstead Road by the Kia dealership). Expect significant queues.
Please note that the tip is operated by Surrey County Council, not Epsom & Ewell. Any queries should be directed to Surrey County Council.
More