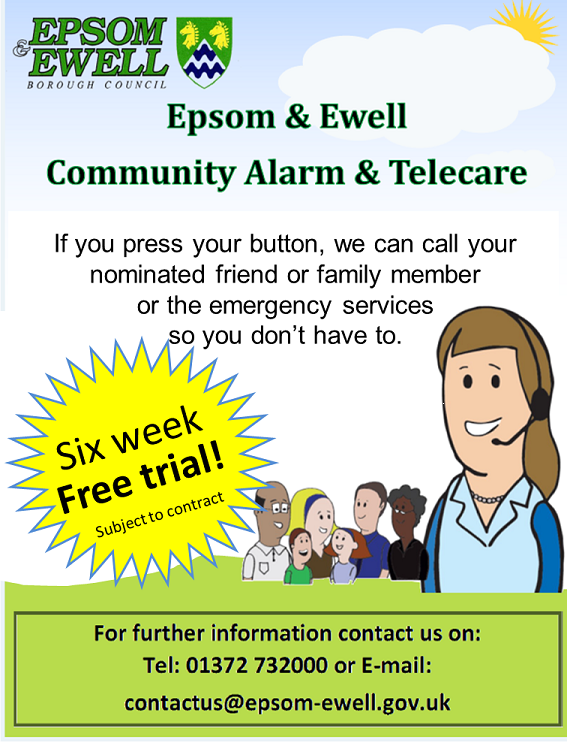 This service is great for people who value their independence. The system supports people who live alone. people who feel vulnerable, people who may have a disability and people who have been a victim of crime. This system gives you and your loved ones reassurance that in an emergency help is available and on its way at the press of a button. 
When you sign up to the service you will receive a pendant (pictured below) which can be worn around the neck or on the wrist. The pendant is wireless and connected to a small unit (pictured below) attached to your phone line. In an emergency you would press the button on your pendant. This will trigger the alarm unit to contact the operators in the monitoring centre. There will always be an operator to answer your call for help as the centre is manned 24 hours a day 365 days a year. You will hear the operator introduce themselves on the speaker of your alarm unit. Once the alarm has been activated the operator will know who and where you are as they will be able to access the details you provided when you signed up for the system. The operator will get the right help to you including the emergency services if required.
If you press your button but are unable to talk or hear the operator on the speaker of the alarm unit don't worry because the operator will call one of your keyholders and the emergency services to come and help you.
| | |
| --- | --- |
| Community Alarm Unit | Community Alarm Pendant |
| | |
| Size: 18.5cms x 12cms | Size: 2.5cms x 3.5cms |
If you are interested to know more about the alarm there are a couple of things you can do - you can visit the Epsom & Ewell Borough Council Wellbeing Centre, Sefton Road, Epsom, KT19 9HG as we have a working alarm that you are welcome to view and test out. We can also arrange a demonstration of the unit and pendant in your home. In both cases we will explain all you need to know about the system.
An alarm can be installed within three to five working days. There are no installation costs and you may be eligible for a six weeks free trial if you have never had the alarm before. Epsom & Ewell Borough Council install and maintain the community alarm unit and Telecare equipment whilst you have it.
Telecare consists of additional pieces of equipment that work with your community alarm unit. They are designed to give you extra help and support when you need it. Below is a list of some of the additional Telecare equipment that can be provided on a needs assessment basis. 
Smoke detectors providing an early warning whether you are in the property or away
Falls detector can register if someone has a fall and raise an automatic call for help
Medication dispenser helps remind you when medication is due and can raise an alarm if the medication is not taken
Bed sensor provides an alert if the bed has been left and it has not been returned to within a certain time
Carbon monoxide sensor detects CO in the air and raises a warning  
Gas sensor provides an early warning of dangerous levels of gas
Flood sensor provides an early warning of flood situations, such as taps being left on
Epilepsy sensor can raise an alert of an individual having an epileptic seizures
Keysafes
If you ever have an emergency in your home, it is likely that the emergency services will need to gain access to your property to help you. Having a keysafe fitted will mean that they can get to you quickly with your own spare keys. A keysafe is a small metal constructed box with a coded push button keypad which is secured to the brickwork outside your property in a discreet place. The keysafe would contain your spare keys to gain access to the property. The monitoring centre would hold the code and give it to the emergency services only if they are called to your property. You can purchase or rent the keysafe from us and we can also install it for you.
 

  

   Size: 10.5cms x 7cms
To speak to us about Community Alarm Plus or keysafes please call 01372 732 000 or email contactus@epsom-ewell.gov.uk .
Back to Community and Wellbeing Services