Date:
Tuesday, 26 September, 2017
The following is reproduced from the current issue of  e-borough Insight, our monthly newsletter available here
In 1896 the London County Council bought a rundown estate called Horton Manor. The estate covered 1060 acres of land in what is now Epsom, and comprised a mansion, gardens and grounds, woods and four farms. Five large hospitals would be built, becoming the world's largest cluster of hospitals for the mentally ill.
The treatment for mental disorders has undergone fundamental changes and advances, and the way we now think of brain health would be incomprehensible to the Victorians who instigated this borough's association with mental health.
The hospitals have gone but the growing acknowledgement of metal wellbeing, what we can all do to stay mentally fit and how we can support those in our community and our loved ones facing mental health issues is epitomised in the annual Epsom Mental Health Week organised by local charity Love Me Love My Mind.
Epsom Mental Health Week has always been something special – and this year will be extra special as it celebrates its 10th anniversary.  To mark this milestone, the week has evolved into the Epsom Mental Health and Well-Being Festival and will be held between 7 and 15 October.
The Festival will present a diverse programme of over 80 events, activities and workshops held at a variety of venues around Epsom – and all free of charge!  This year's theme is "Community" and a safe, supportive and inclusive community is what you'll find.
The programme will incorporate a day for and with young people, opportunities to be creative and to participate in open discussions, including one session with a local MP.  For those who enjoy physical activity there's football. The Epsom Male Voice Choir makes a welcome return – back by popular demand as they were so well-received last year. You will also be invited to take part in "A Day to Do" – to undertake to be a good neighbour.
Some members of our local community may find it a challenge to get out and about so visits to nursing homes across Epsom and Ewell have been arranged.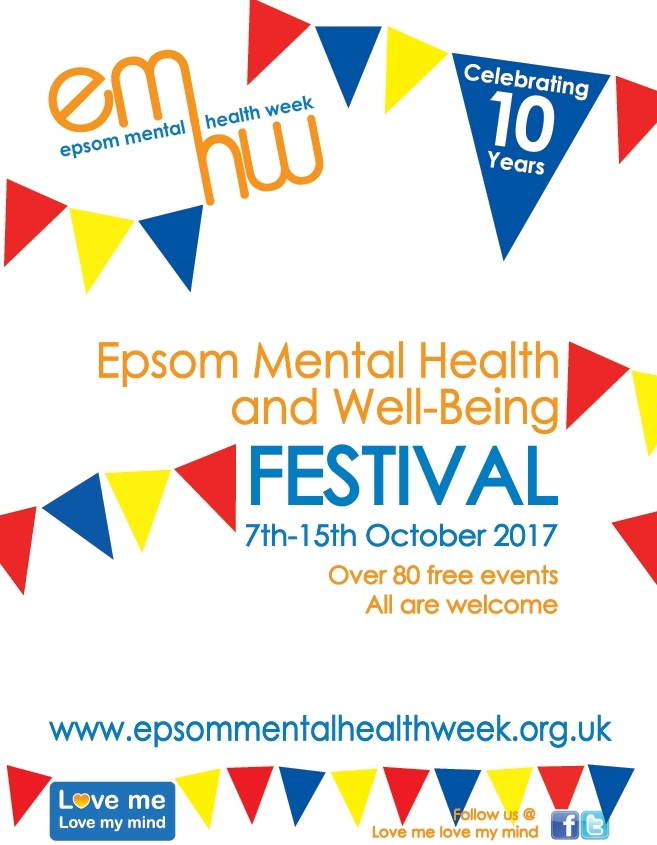 All of these events and activities are free to attend and open to everyone who wants to come along - you don't need to have specific issues or concerns with your mental health to attend.  With such a wide and varied programme and with over 70 there's likely to be something you will find of interest.  You can dip in and out and attend any of those events and activities you'd like to be a part of.  Even if all you want is a place to sit and be still, you will be most welcome.
For the full list of activities and more information visit the Love Me Love My Mind website